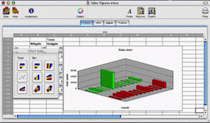 Try the free evaluation version of Mesa
Try a demo by downloading from here.
You can try out Mesa at no cost in Evaluation mode, limiting you to a 20 x 20 spreadsheet - with the word 'Demo' printed on all your printouts. A full license costs $34.
What is Mesa?
Mesa is a spreadsheet built for Mac OS X. It has multiple worksheets (like Excel) and uses a subset of Excel's commands and functions (as well as some all it's own). It doesn't include macros or ODBC capabilities. It will import Excel 5 files successfully if you're using simple data, formulas and functions and formatting, but we don't guarantee complete Excel compatibility. You can save Mesa files in Excel format and read them in Excel.
Once you've done your calculations, you can produce charts and good-looking reports, and copy your charts into other programs like Mail.
Mesa costs just $34.
To purchase a Mesa License right now using PayPal, click the PayPal button below:
Your license will be sent by email within one working day of your order.
More about Mesa
Mesa is a traditional spreadsheet which combines a powerful yet easy-to-use icon-based interface with the features you expect from a 1-2-3- and Excel-compatible product. Whether you want a simple single-worksheet budget, a multi-worksheet consolidation, simple printouts or complex reports with charts, Mesa will do the job -- fast!
Disclaimer
P & L make no express or implied warranty or representation of any kind with respect to this software, including any warranty that it is defect-free. ANY IMPLIED WARRANTY OF MERCHANTABILITY OR FITNESS FOR A PARTICULAR PURPOSE IS HEREBY DISCLAIMED. IN NO EVENT WILL THE AFOREMENTIONED PARTY BE LIABLE FOR DAMAGES, INCLUDING ANY GENERAL, SPECIAL, INCIDENTAL, OR CONSEQUENTIAL DAMAGES ARISING OUT OF THE USE OF OR INABILITY TO USE THIS SOFTWARE. P & L are under no obligation to provide any services, by way of maintenance, update, or otherwise.